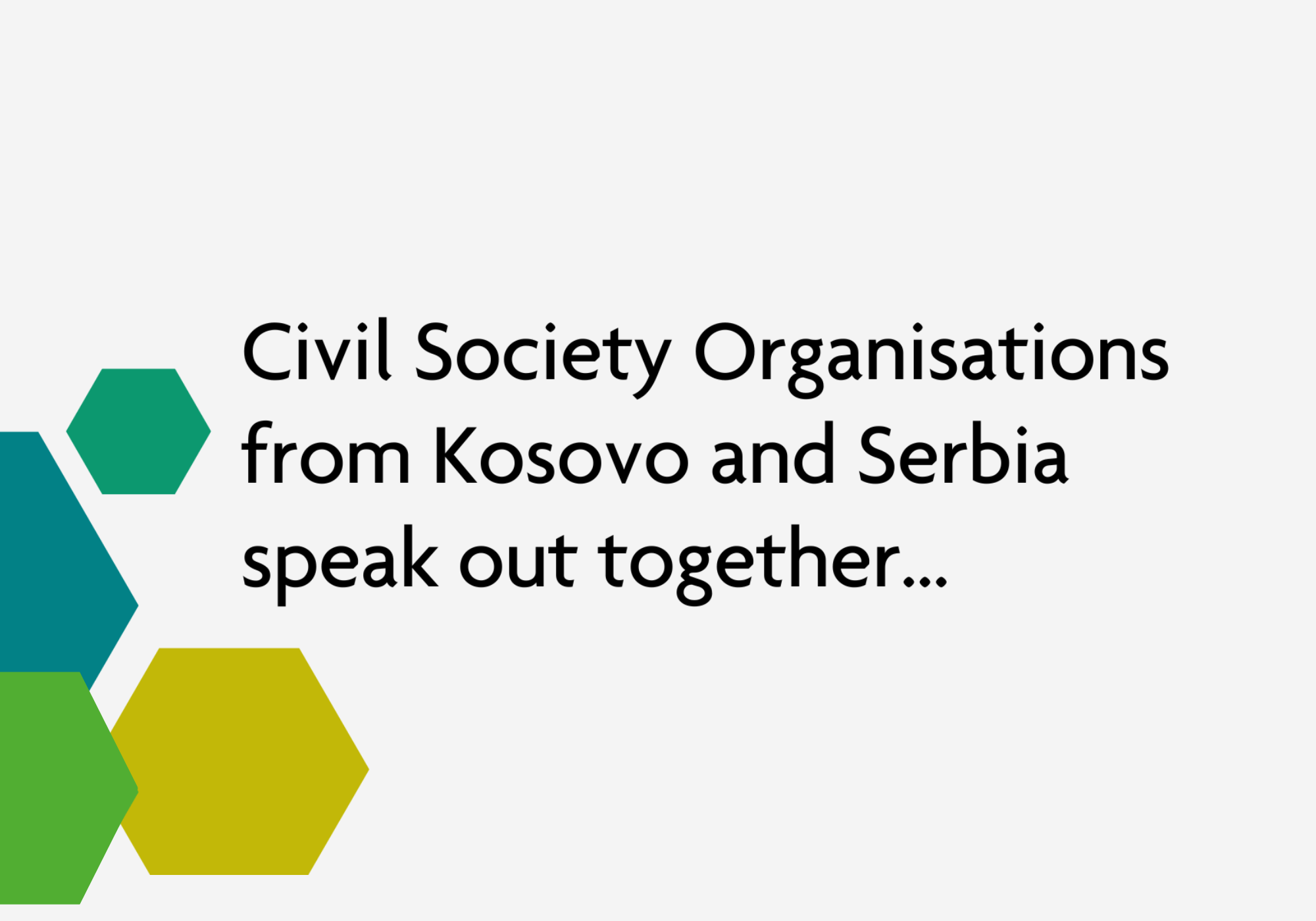 Civil society organisations from Kosovo and Serbia speak out together to emphasise the importance of building goodwill and trust in order to make it possible for political agreements to take hold, bring peace and benefit their societies.
The so-called status quo is taking communities on a collision course, deepening divides and entrenching misery. People don't know where they stand, nor what they can expect for their societies. The only predictability is frustration and disappointment.
The narrative of coercive diplomacy – that agreement is being forced upon us – only undermines the sense that implementation will happen in good faith. We need to be able to believe that the stakeholders are dedicated to their process for the right reasons. They must stand up for the commitments they enter into on our behalf.
Ambiguity can no longer be constructive. Uncertainty breeds uncertainty. People don't know how moving to the next stage will affect their everyday tangible needs, including implications for their own jobs and access to services. This is not simply a question of transparency. Decision-makers must be proactive in addressing the legitimate concerns of citizens whilst emphasising the benefits that can and must be grasped.
Any agreement must also be underpinned by specific guarantees. To create certainty in and for the future, steps forward need to be irreversible. We must cease to live in a cycle of integration and disintegration. People must have the confidence to invest in themselves and their careers, and ultimately their communities.
Many people already feel that the system does not work for them. Reforms that address essential needs, including the fight against corruption and developing an effective judicial system, cannot be addressed effectively. Civic voices are not as strong as they should be in public policy, and the possibility to build civic alliances is compromised. Issues of concern to the public are politicised in a way that they cannot be brought up by civil society.
Narratives among politicians and in the media too often emphasise difference and separation. The tangible result is outward migration, further depleting our societies of the very human capital on which we depend. Instead, we want to live in societies that celebrate diversity and see it as a strength. Trust between people is a necessary condition to move beyond the obstacles that our communities have been experiencing for many years.
Whilst integration into the European space will dissolve some of the divisions that we see today, reform must be pursued as an end in itself, not simply as a means to enter the EU. The dialogue is an essential but insufficient part of this journey. It must be supplemented by complementary processes that transform relations within and between communities and lay the foundations for a peaceful and prosperous future. Without this, we risk repeating the mistakes and missed opportunities of the past decade and more.
Signatories
Centre for Peace and Tolerance (CPT)
Community Building Mitrovica (CBM)
Center for Democracy and Education – Lugina, Bujanovac
Livrit Creative Center, Presevo
Lugina Lajm Portal – Bujanovac
Local Peace, Leposvic
Media Centar, Caglavica
New Social Initiative (NSI)
Radio Peja
Radio Gorazdevac
Radio Astra, Prizren
Professor Vjollca Krasniqi, University of Prishtina
TV Prizreni
Voice of Roma, Ashkali and Egyptians (VoRAE)
Youth Initiative for Human Rights (YIHR) – Kosovo
Youth Initative for Human Rights (YIHR) – Serbia