Serein Sharda, grant officer for Peaceful Change initiative in Libya, writes about her experience of working on the No Stability Without Peace initiative.
Peaceful Change Initiative (PCi) works to promote social cohesion and peace in Libya, since it began operating in the country in 2013. My name is Serein Sharda, and I have been working as a Grant officer with PCi since 2021. My work as a peacebuilder is different every day; some days I help people write, develop, and propose initiatives and some days my role requires brainstorming with grant recipients on how resolve conflict and improve the quality of life in their area. I am always providing people with skills, support, and advice. One of the recent grants I was responsible for is called No Stability Without Peace.
How It Started
In September 2022, nine of the forty-two Social Peace Partnerships (SPP) which run across Libya met together for the first time. These SPPs were chosen because they now run independently and are sustainable in delivering peace in their area after years of training and development with PCi's support. This gave them an opportunity to connect, network, and learn from each other's experiences. Working together also gives the SPPs the ability to have influence on a national level.
At the meeting, four SPPs in the western region: Sooq Al-Jomma, Tripoli center, Sabratha and Bani Walid, agreed to hold dialog sessions in each municipality about national reconciliation and what is needed to achieve peace and social cohesion in Libya. They also wanted to involve their communities involved in achieving stability and peace.
Social Peace Partnerships bring together a diverse group of local people, with a shared vision of Libya becoming a safe and inclusive country. Members include representatives from the local authority, civil society leaders, elders, community leaders, business owners and anyone who is interested in peacebuilding. PCi builds the skills and capacity of the SPP members through various trainings so they can solve community issues and develop an ongoing response mechanism to community conflict. PCi also helps to build positive relationships between the community and the local authorities.
Preparation leading to the forum
The initiative, funded by PCi, was called No Stability Without Peace to emphasize that peace is the perquisite to all that we wish for in Libya.
The SPPs then implemented dialogue sessions with 20-40 participants in the four municipalities. They discussed what is needed to achieve stability: the role of citizens, and the role of municipalities. The sessions were attended by municipal representatives, influential leaders, and government officials. There was a focus on the importance of spreading peace and tolerance, and opportunities for national reconciliation. I was personally surprised to hear discussions on the current situation and how we each have a role to play in achieving peace.
Next, SPP members from the four municipalities gathered in Tripoli and presented a summary with ten recommendations. The recommendations included: supporting efforts toward national reconciliation, providing opportunities for women and youth to engage in politics and assume leadership positions, support for civil society organisations, and supporting young business owners.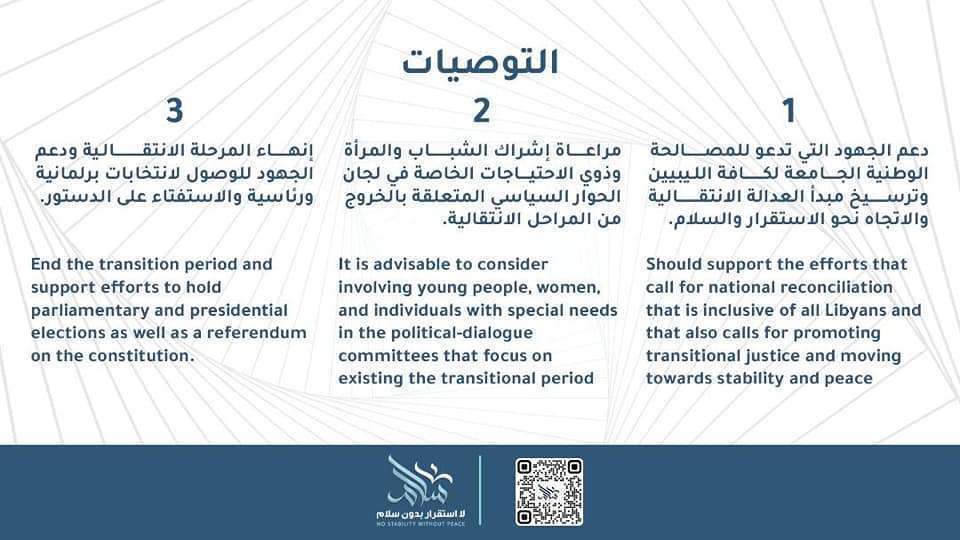 To spread awareness of the importance of national reconciliation and social cohesion, we initiated an online campaign through Facebook sharing updates on the No Stability Without Peace initiative. I was astonished at the feedback we received. Many people wanted to volunteer and be part of the peacebuilding campaign.
Closing forum
On 12th of March 2023, the initiative's closing forum was in Tripoli. We were pleased to see many persons of influence join the forum. Participants included Ibrahim Al-Madni, national reconciliation Advisor in the Presidential Council. Osama Al-Ahmar, Head of the peacebuilding and reconciliation pillar in the Presidential Council. Saliba Charles the Maltese ambassador. Patrick Merienne Head of Peace and Security at the UK Foreign, Commonwealth and Development Office, and number of mayors, municipal; members and activists from the four municipalities.
There was an official speech from the presidential council thanking the team for their efforts and looking forward to working together on the recommendations. There were also artistic presentations on peace and reconciliation by people from all over Libya and a short video showing the alternative of peace, which is war. I could tell from the facial expressions of the participants, that regardless of what might divide them, they all agree they do not want to return to war.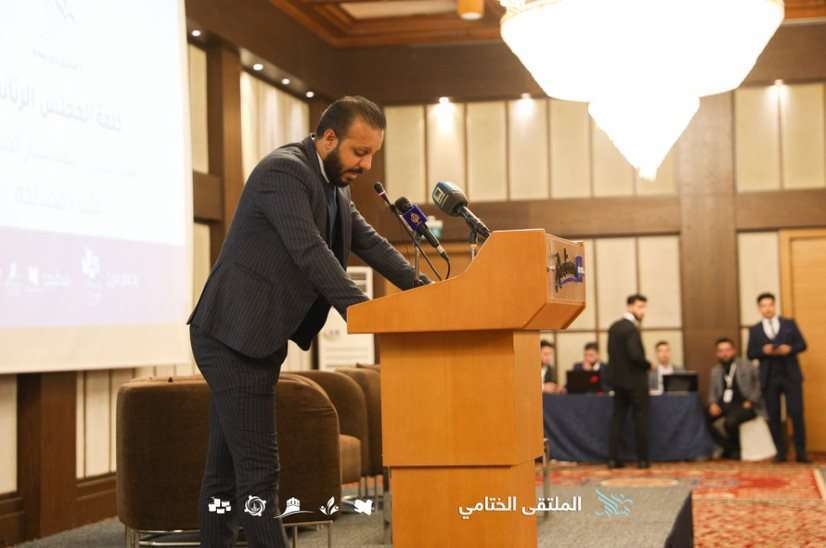 The presentation of the ten recommendations on promoting peace and social cohesion was followed by a dialog session with the Presidential Council members and others to discuss mechanisms to implement them. I was pleased that both Al Jazeera Mubasher and Libya Al Ahrar TV covered the forum.
Although the results of the initiative were encouraging, efforts from other Libyan stake holders are needed to continue building stability and peace. I am honoured and pleased to be a part of this work