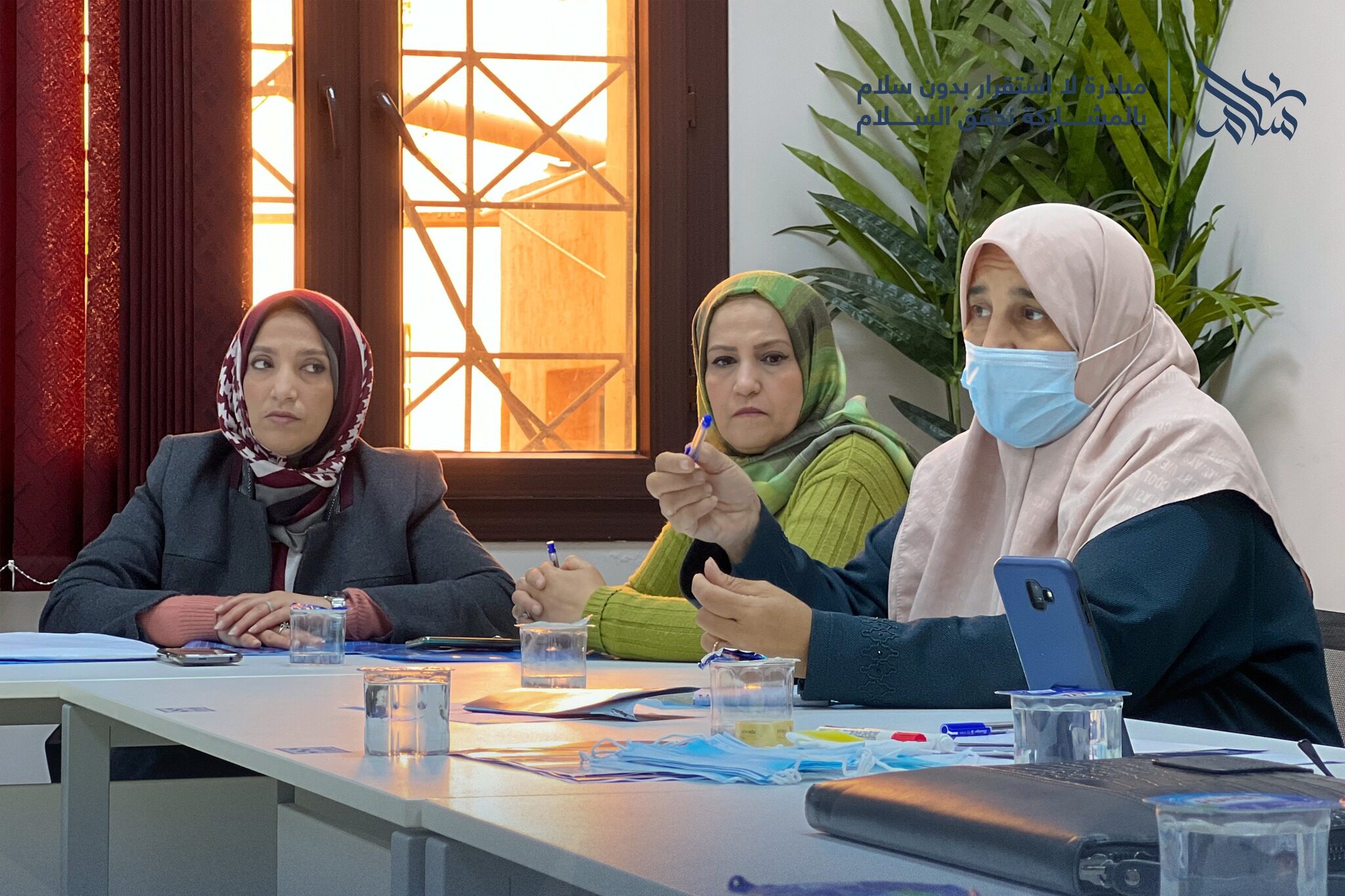 A key part of our work in Libya focuses on ensuring women's inclusion and leadership in peacebuilding and decision-making. To achieve this goal, we address structural and practical barriers, as well as physical risks, that limit women's meaningful participation in building and sustaining peace.
While women in Libya play a fundamental role in building and maintaining social peace and cohesion, this role is often performed in informal settings. For example, through lobbying male family members, accessing neighbourhoods that are considered off-limits for men, or using their community management role to help dialogue between families or different communities. For instance, the decision of a woman not to seek revenge for the killing of her husband by members of another community group prevented a violent escalation that would have likely led to more killings and further conflict.
But despite the diverse perspectives and unique contributions they can bring, women continue to face systemic exclusion from taking part in and leading efforts to improve social cohesion, inclusion, and security in their communities. When women's voices are missing from peace efforts, their specific needs are often neglected, and we miss out on the perspectives and networks that they can bring to peace efforts. We are working alongside Social Peace Partnerships across Libya to change this.
Social Peace Partnerships (SPPs) bring together a diverse group of local people, with a shared vision of Libya becoming a safe and inclusive country. Members include representatives from the local authority, civil society leaders, elders, community leaders, business owners and anyone who is interested in peacebuilding. PCi builds the skills of the SPP members through various trainings so they can solve community issues and develop an ongoing response mechanism to community conflict. PCi also helps to build positive relationships between the community and the local authorities.
Since 2013, Peaceful Change initiative has been supporting community-level peacebuilding initiatives, through our Social Peace and Local Development programme, in over 40 Libyan municipalities. A core element of this work has been supporting women's inclusion in peacebuilding efforts, ensuring women's perspectives and needs are better reflected in decision-making, and understanding how different gendered experiences of conflict impact peacebuilding.
Working with Social Peace Partnerships to advance women's inclusion and leadership in peace efforts
Since the start of this programme, Social Peace Partnerships have made great strides in advancing women's representation, participation, leadership and visibility in peace efforts. Women are now represented in all Social Peace Partnerships, where they make up 39% of members on average, and women now play an active role in the regular planning and implementation of activities. In some Social Peace Partnerships, women were also elected to leadership roles such as Chairperson positions.
Social Peace Partnerships across Libya have created an environment which fosters women's leadership skills, from peacebuilding to crisis management, local development, and governance. Women have successfully conceptualised, designed, and implemented initiatives funded by Peaceful Change initiative which address women's perspectives and needs.
Women's leadership and contributions to projects implemented by Social Peace Partnerships have been crucial in gaining wider acceptance among male peers of the need for greater women's participation. Within many Social Peace Partnerships, women's leadership in the design and implementation of projects is now considered key to making initiatives more effective and sustainable. For example, some women-led initiatives have been endorsed by local authorities through long-term funding. The success of these initiatives has played a significant role in positively shifting views on women's participation.
Similarly, many male members recognise that projects implemented with active female members are often delivered more efficiently and on time. Some of these projects have become self-sustainable through income generation and have gone on to support other initiatives run by women for women.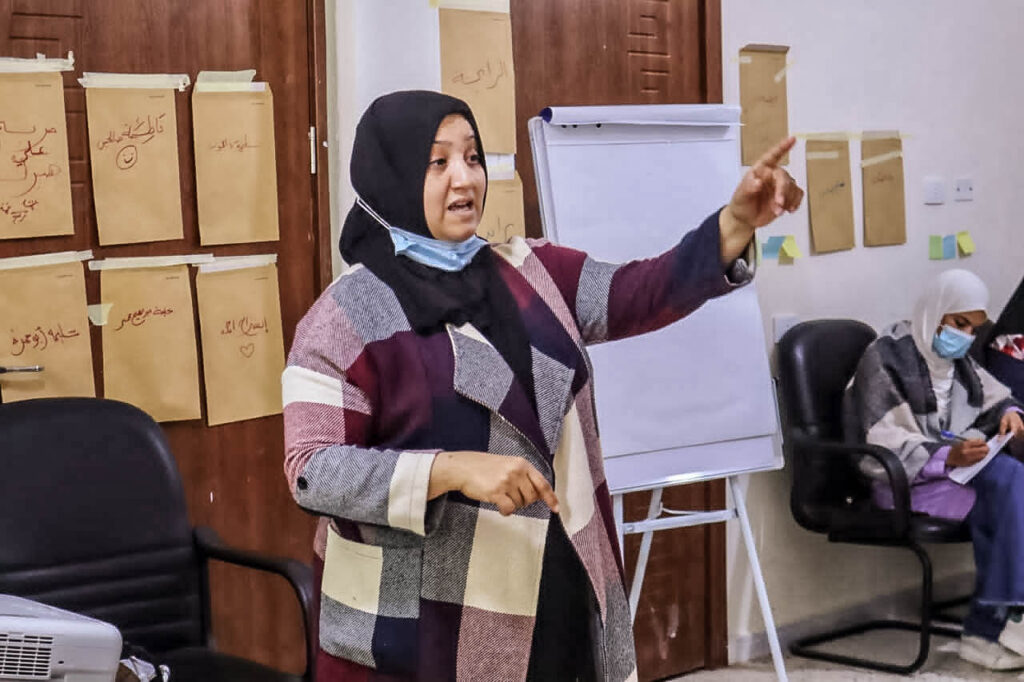 Shifting perceptions around women's role in peacebuilding and decision-making
To shift social views around the role of women in peacebuilding and decision-making, Social Peace Partnerships work to amplify the voices and stories of women leaders in peace and social initiatives. This is key to ensuring that a diverse range of women can be models in their own communities and inspire younger and less active women to imagine a different role for themselves.  
For example, Khadija attended a peacebuilding training for women in Ubari which gave her the drive and confidence to set up the Noor Al-Alam Centre, which among other activities delivers psychological support to children affected by conflict. "Attending a workshop on peacebuilding and seeing all those women [from different communities] working together despite our differences motivated me to establish a centre that brings people from the different groups together for trainings and other social initiatives."
In areas where social norms are less accepting of women's presence in the public sphere, Social Peace Partnerships have been able to build trust with key local actors and secure a higher acceptance of women's role in peacebuilding and decision-making processes. This is reflected by an increased willingness by many male members to be women's inclusion advocates and allies. In some cases, Social Peace Partnerships have concretely supported women leaders in their communities, for example through backing their candidacy in local elections.
Through their continued efforts, Social Peace Partnerships are making an important contribution to shifting the role of women in peacebuilding and sustaining peace in Libya. To learn more about this work, you can read our report which captures our experience and lessons learned from 10 years of integrating gender into our peacebuilding programme in Libya.